Training

We have a new workshop, based on our very popular speaking presentation: Think Like a Cheetah, and thrive in the corporate jungle. To learn more, click on the cheetah: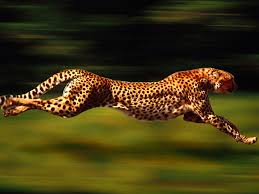 Some of our Programs
Discover our customized or packaged training programs which have been successfully utilized in corporations of all disciplines and size. Or work with us to customize a training program to meet your specific needs.
I. Logic of Leadership
The Logic of Leadership is our popular training program focused on helping the individual to understand his or her own leadership blocks. The program helps participants to create an appropriate vision, identify their level of engagement and responsibility, manage their energy, and identify helpful and harmful patterns

.
---
II. Perfect Speed
This one day program works on the participant's understanding of the enormous power of beliefs and how to manage personal beliefs to create the outcomes desired. This powerful workshop is a must for anyone who knows that he or she is limiting his or her own results. It also offers a powerful first look at utilizing intuition for decision-making.
---
III. What To Do When It Rains Leadership Workshop
This two day seminar is based on our well-loved Leadership book, "What To Do When It Rains, a handbook for leaders in crisis". So many of our clients carried the book with them as a reference book that we decided to do a workshop helping them to address the areas of the model where they felt the weakest in their own personal leadership style. Click on Rains Workshop to find out more.
---
IV. Intuitive Leader
This workshop takes place in three sessions. We have none scheduled at the moment but if you have an interest, please contact us. Click here to gain in depth information. Intuitive workshop.

We have so many more! Please call us for information on our advanced programs.
V. Stronger Together
This video based program was developed by Harlan Evans for Rockwell Automation. It was recently re-packaged by Rockwell for their customers. We wanted to evolve this program to one which could be delivered by any group leader as a way to encourage discussion and planning around leadership in tough times. This series with 12 short videos covering topics of leadership in tough times, includes a facilitator guide and a participant workbook with discussion questions.